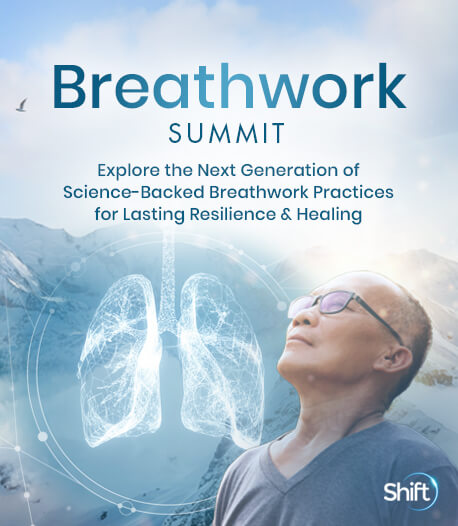 Program & Replays
Volitional Breathing: Subtle Modifications in the Breath and Their Applications in Health
Broadcast on January 09, 2023
With Dr. Shirley Telles
Hosted by Jessica Dibb
Volitional breathing allows for changes in the rate, depth, phase duration, speed, and force of breathing. According to Dr. Shirley Telles, each of these changes can impact the way we think, feel, process sensations, and metabolize what we consume, possibly related to changes we experience in the autonomic nervous system and in respiration-locked cortical activity. Shirley will look at the ancient yoga texts and their suggestions for safe volitional breathing, which are still very relevant today. She'll also explore how breathing can be used for short-term changes in sensation, especially for pain reduction, as well as to influence metabolism.
In this session, you'll discover:
Traditional volitional yoga breathing practice precautions from the ancient texts
Volitional breathing techniques for pain reduction
Selective methods for metabolism of carbohydrates and fats through volitional breathing
The opinions expressed here are those of the author/presenter and are not representative of Shift Network employees, customers, or other presenters.
Love this Speaker and What They Have to Say?
It can be yours to keep... forever.
Get lifetime access to the summit and bonus material by upgrading now!
UPGRADE HERE
Dr. Shirley Telles
Research Advisor and Professor, Patanjali Research Foundation
Neuroscientist Dr. Shirley Telles completed her advanced training in neurophysiology from the National Institute of Mental Health & Neurosciences (NIMHANS), Bangalore, India. Shirley directs research at Patanjali Research Foundation, Haridwar, India. She has authored three books, contributed chapters to 16 others, and has had 225 research publications listed in journals indexed in international bibliographic databases (such as Medline and PsycLit). 
Shirley has received awards from The Indian Council of Medical Research and The John Templeton Foundation. She was also the recipient of a Fulbright Fellowship, to study "functional magnetic resonance imaging in meditators". She's an enthusiastic practitioner of yoga herself.