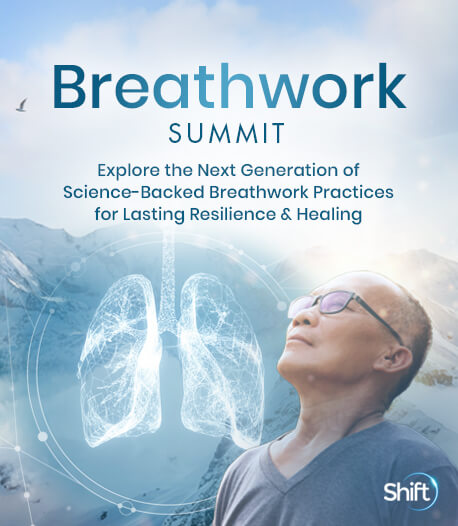 Program & Replays
The Bridge
Broadcast on January 09, 2023
With Anthony Abbagnano
Hosted by Steph Magenta
Anthony Abbagnano explores "The Bridge," a 6-step process using your breath as a tool. You can safely access your subconscious and find those parts of yourself where you originally lost your breath, without experiencing the trauma again. Bringing breath to these fragmented parts, you can restore and unify your fragmented self into a whole, connected creator — no longer a broken victim of circumstance.
In this session, you'll discover:
A short meditation to connect with your inner child
How "The Bridge" uses the breath as a tool to connect fragmented pieces of yourself
Ways to shift from victim to creator by accessing the subconscious and releasing trauma
The opinions expressed here are those of the author/presenter and are not representative of Shift Network employees, customers, or other presenters.
Love this Speaker and What They Have to Say?
It can be yours to keep... forever.
Get lifetime access to the summit and bonus material by upgrading now!
UPGRADE HERE
Anthony Abbagnano
World-Renowned Breathwork and Founder of ASHA.global
Anthony Abbagnano is the founder of Alchemy of Breath Academy, the only breathwork training institution in the world that has been recognised by the Federation of Holistic Therapies. He is on the executive board of the GPBA (Global Professional Breathwork Alliance), and the pioneer of bringing breathwork to the masses online, specialising in trauma resolution, emerging consciousness, personal development and creator of "The Bridge Process" (Inner Child Retrieval Therapy).
Anthony is also original the founder of The Ark in Bali, Indonesia, ASHA (Alchemy School of Healing Arts) in Tuscany, Italy, and the creator of the Inner Journey to Mastery, a 4-month transformational program for anyone that wishes to get the best out of their lives.an He's also the founder of Alchemy School of Healing Arts (ASHA), a retreat and community center located in Southern Tuscany.
Having been a conscious breather for decades, Anthony first incorporated breathwork into his other wellness practices in 2012. The nephew of Italy's most renowned philosopher Nicola Abbagnano, Anthony weaves many talents into his breathwork practice, including philosophy, Jungian psychology, spirituality, Conscious Loving, Hypnotherapy, and Matrix Energetics (the study of miracles) into his work.
Anthony and his team of almost 1000 facilitators has successfully taken breathwork into festivals, yoga spaces, the corporate world, prisons, The Psychedelic Society, hospitals, the dying, and of course, the internet! His work is noted for its application in the fields of addiction, transformation, personal empowerment, the integration of psychotropic and plant medicine experiences, practical spirituality, and the opening of humanity's hope for a heart-centered harmonious existence. A quote from him, "It is the artists that tell the truth. Read the poems, listen to the songs, watch the dancers and look at the painters. Then you will know what existed before you came into this moment."