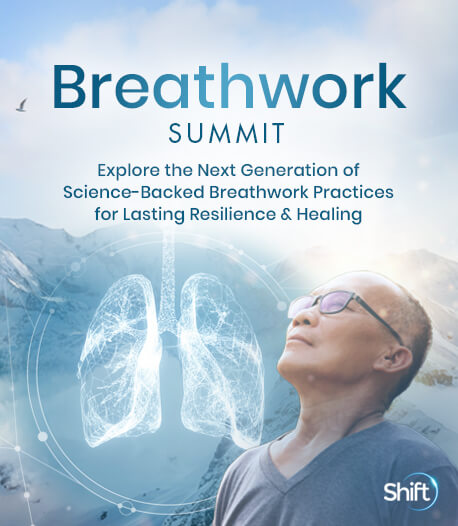 Program & Replays
The Return of the Feminine Principle in Breathwork
Broadcast on January 11, 2023
With Kaya Leigh
Hosted by Niraj Naik
According to Kaya Leigh, forcefully pushing oneself into an experience or altered state in breathwork does not allow for the process to truly take root within and unveil its medicine. Yet when we wholeheartedly sink into the feminine, radically allowing ourselves to be in full receptivity through the art of circular breath, we open ourselves to the full alchemical process that is the deep healing and communion with the spirit of breath.
In this session, you'll discover:
How to gently invite the power of breathwork into yourself
Ways to remain present with your total emotional experience
How to claim your fully-expressed self
The opinions expressed here are those of the author/presenter and are not representative of Shift Network employees, customers, or other presenters.
Love this Speaker and What They Have to Say?
It can be yours to keep... forever.
Get lifetime access to the summit and bonus material by upgrading now!
UPGRADE HERE
Kaya Leigh
Founder of Sacred Breath Academy, Creator of The Sacred Breath Method
Kaya Leigh is a Master Breathwork Practitioner, International Speaker, Teacher and Trainer, Master Reiki Practitioner, Emotional Intelligence Guide, Quantum Healing Practitioner, Womb Awakening Practitioner, Founder and Director of Sacred Breath Academy, and Creator of The Sacred Breath Method. She is also the creator of The Sophia Breathwork Method for women — designed to awaken and empower the sacred shakti and embodied remembrance of the divine feminine. She has also created a Sacred Feminine Mystery School, a living library of the feminine mysteries and wisdom teachings.
Kaya's core breathwork modality, The Sacred Breath Method, is an uninhibited, spacious and feminine approach (the feminine principle exists within all genders) to breathwork journeying, a powerful practice that guides the breather into deep self-intimacy, to truly know thyself. It is from this precious place that sustainable change is born, but not before taking that courageous journey into one's totality. Kaya has been working with breath medicine for over a decade now, and to this day, remains continuously in awe of the metamorphoses it catalyzes in both the individual and the collective. She believes that conscious breath is an art form that holds the most profound treasure we seek: intimate union with self.