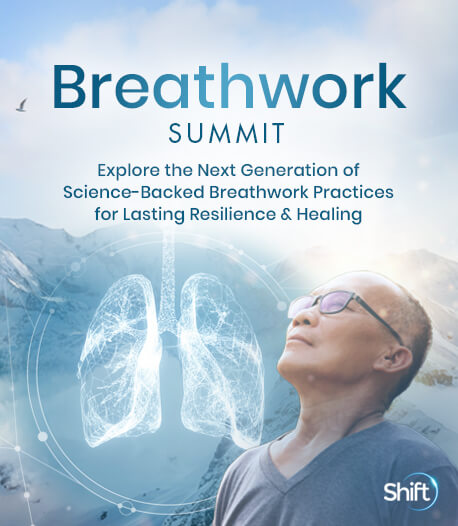 Program & Replays
The Healing Power of Clarity Breathwork
Broadcast on January 10, 2023
With Ashanna Solaris & Dana Dharma Devi DeLong
Hosted by Steph Magenta
Ashanna Solaris and Dana Dharma Devi DeLong share how breathwork changes us physically, mentally, emotionally, and spiritually. And why we need it now more than ever to live to our fullest potential, and give our greatest offering.
In this session, you'll discover:
How clarity breathwork can change your life
A gentle and feminine approach can bring about greater safety and integration
The clarity breathwork sacred tools of meditation, sacred music, and breath
The opinions expressed here are those of the author/presenter and are not representative of Shift Network employees, customers, or other presenters.
Love this Speaker and What They Have to Say?
It can be yours to keep... forever.
Get lifetime access to the summit and bonus material by upgrading now!
UPGRADE HERE
Ashanna Solaris
Co-Founder of Clarity Breathwork, Priestess & Speaker
Ashanna Solaris, a co-founder of the profound practice of Clarity Breathwork, teaches this gentle, nurturing, feminine approach to healing, transformation, and embodiment. Ashanna has led hundreds of training, workshops, and retreats around the world. She leads individuals through a powerful path of releasing their blocks, so they can open to and live their greater potential. Many of her students go on to become practitioners, bringing all of their sacred gifts into the work.
Since 1990, Ashanna has brought forth a wealth of experience and training in the healing arts — integrating breathwork, Light Body meditation and transmission, Reiki and energy healing, and somatic experiencing ritual, dance, and movement. Ashanna has a deep passion to inspire others to realize their fullest potential and give their greatest offering.
She is also a gifted public speaker, officiant of ceremonies, and presenter at many conferences, seminars, and festivals. She is well-known for her inspired meditations.
Dana Dharma Devi DeLong
Co-Founder of Clarity Breathwork, Musician & Speaker
Dana DeLong (Dharma Devi) has been involved in the global Breathwork community for over 40 years as a Certified Clarity Breathwork Trainer and Practitioner, inspirational teacher, and guide. She is also certified by ARTI (Association of Rebirthers and Trainers International), and by the former LRT (Loving Relationships Training) as well as by Condor Blanco in Chile — a holistic and ecological mystery school.
She is a co-founder of Clarity Breathwork & Clarity Productions, producing seminars, retreats, and musical events around the globe. Dana is also an international recording artist, gifted flutist, and kirtan chant leader with several CDs, both solo and in collaboration with other major artists. She has performed for the noted Croatian healer Braco for many of his tours, and audiences praise her flute music as heaven-sent.
Dana Dharma Devi has been part of Shakti & Bhakti Fest for 11 years, as both a gifted artist and workshop leader. She is a regular invited teacher at PachaMama Eco Village in Costa Rica. Her mission is to "open hearts, one breath at a time." Thousands have been touched by the healing power of Clarity Breathwork, and Dharma Devi is honored to be part of this profound Breathwork movement, in both private practice and through the Clarity Breathwork Professional Training Program.