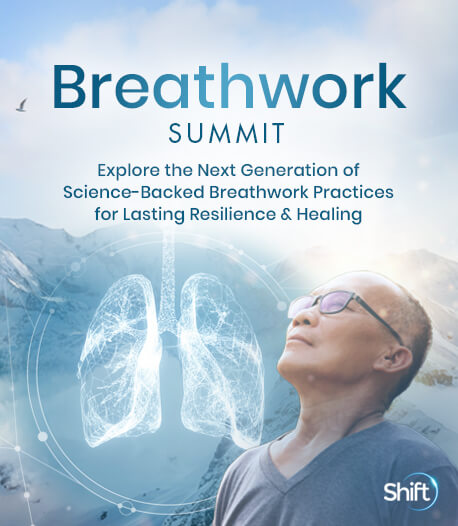 Program & Replays
Evolutionary Breathwork: Embodied Awakened Consciousness for Humanity
Broadcast on January 12, 2023
With Jessica Dibb
Hosted by Niraj Naik
According to Jessica Dibb, conscious breathing is our most immediate powerful nutrient and medicine, and contains the quantum potential for all aspects of our personal, relational, and collective lives. As the depths of ancient breathing teachings and the discoveries of modern science coalesce, the deeper evolutionary nature of breathing is poised for delivery into our world — if we can attend to some essential structures, skills, and levels of consciousness in breathing and breathwork. This will birth a culture of breathing and love.
In this session, you'll discover:
Breathing's deep integrative capacity for physical, emotional, cognitive, spiritual wholeness and coherence
An expanding understanding of embodied consciousness

—

breathing within sensing, feeling, thinking, and intuition
How enhanced structures for training, ethics, research, and efficacy support the unparalleled power of breakthrough experiences
The opinions expressed here are those of the author/presenter and are not representative of Shift Network employees, customers, or other presenters.
Love this Speaker and What They Have to Say?
It can be yours to keep... forever.
Get lifetime access to the summit and bonus material by upgrading now!
UPGRADE HERE
Jessica Dibb
Enneagram Teacher, Founder of Inspiration Consciousness School and Community & Co-Director of the Global Professional Breathwork Alliance
Jessica Dibb is founder, spiritual director, and principal teacher at Inspiration Consciousness School and Community, which is dedicated to promoting personal, relational, and planetary wellness. For over 25 years she has designed and facilitated workshops, classes, and ongoing breath-centered trainings that are grounded in an integrated model of psychospiritual healing and development to support self-actualization.
Jessica's teachings assist people in cultivating consciousness through all stages of life. Using integrative breathwork, psychodynamic principles, movement, meditation, expressive modalities, the Enneagram, and many other established and emergent wisdom teachings, she facilitates embodied awareness of each moment.
Jessica has taught integrative breathwork at the Psychotherapy Networker Conference for over a decade, and has presented at the International Enneagram Conference for the past 20 years. She co-directs the Global Professional Breathwork Alliance (GPBA), and is current chair of the GPBA's Ethics Committee.
Jessica founded and hosts the annual Enneagram Global Summit, co-hosted the Breathwork Summit in 2012 and 2020, and was the weaver and visionary behind the innovative conference Breath Immersion: From Science to Samadhi, at Omega Institute and Kripalu Center for Yoga and Health. Jessica, who initiated understanding of the "unified breath field," is currently writing a book on integrating breathwork into psychotherapy.
Jessica is a founding board member of Convergence, a nonprofit organization working to promote dialogue and innovative solutions for challenging social issues of our time. She was an advisor to the U.S.-Muslim Engagement Project, and served on the board of the United States Consensus Council for Search for Common Ground. Jessica is also project liaison for the United Nations Emergency Peace Service Project.
Her deepest passion is to support evolving creativity and positive possibilities on our planet by supporting awakened consciousness, and the embodiment of love, wisdom, and presence in every moment… for all life.