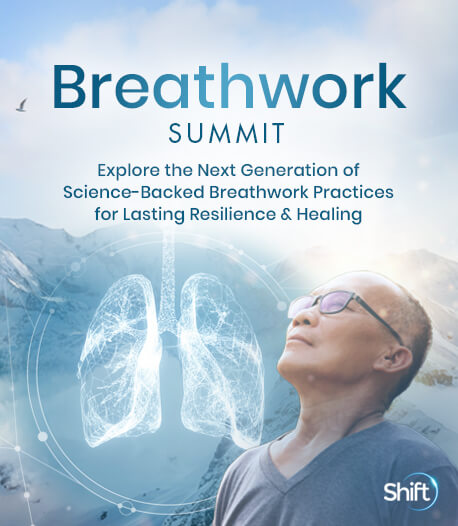 Program & Replays
You Are Your Body's Pilot Not Its Passenger
Broadcast on January 13, 2023
With Chuck McGee III
Hosted by Niraj Naik
According to Chuck McGee III, your physiology affects your psychology. Controlled breathing can help alleviate chronic pain, reduce stress, manage depression, and lower anxiety.
In this session, you'll discover :
There is no one answer, only by assembling and understanding multiple tools we have can we use them effectively
Through practice and self discovery you can find what truly works for you
How to push past your perceived limitations understanding that your brain is not your friend
The opinions expressed here are those of the author/presenter and are not representative of Shift Network employees, customers, or other presenters.
Love this Speaker and What They Have to Say?
It can be yours to keep... forever.
Get lifetime access to the summit and bonus material by upgrading now!
UPGRADE HERE
Chuck McGee III
Breathwork Instructor, ACT Practitioner
As a Type 1 Diabetic and Traumatic Brain Injury survivor, Chuck McGee III has faced many personal health challenges. For years he had been searching for practical and impactful ways to improve his health and reduce his symptoms. Six years ago he was introduced to the Wim Hof Method, and after feeling the benefits as well as the massive shift this method brought into his life, he switched professions and dedicated his life to helping others discover their own personal power to help themselves.
For the past six years, Chuck has traveled worldwide studying different breathwork modalities. His first introduction to conscious breathwork was through the Wim Hof Method, which included weeks of instruction from Wim Hof himself. Chuck was the first American Instructor to help lead the Wim Hof winter expeditions in Poland, and he continues to expand his knowledge in this and other breathwork practices. 
For the past three years, Chuck has been working in a healthcare setting applying foundational and functional breath coupled with the Wim Hof Method to help reduce chronic pain, anxiety, and depression. His goal is to empower people through their own personal and individual breathwork. Because everyone's physiology is different Chuck knows there is no cookie-cutter approach to optimal health, however, he believes that functional breathing can positively impact everyone.
Along with being a Wim Hof Method instructor, Chuck is also a master instructor with Oxygen Advantage and a certified XPT Performance Breath Coach. Chuck works with everyone at their own pace, regardless of their age, ability, or fitness level. His clients range from those who are searching for a reduction in chronic pain and needing tools to manage anxiety and stress, as well to those who want to learn how to optimize athletic performance.