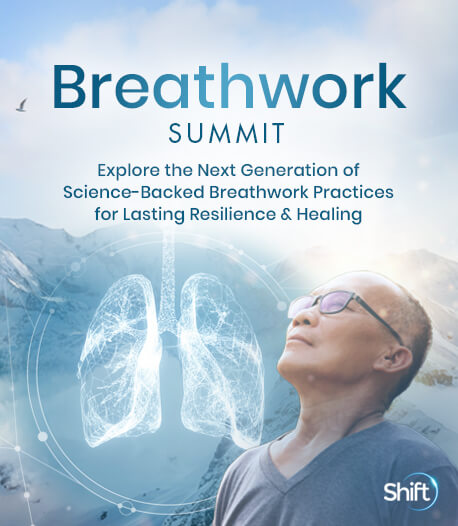 Program & Replays
Breathing Through Chaos, Catastrophes, and Climate Change
Broadcast on January 10, 2023
With Ayo Handy-Kendi, the Breath Sékou
Hosted by Steph Magenta
In a very turbulent world, using the tools of breathology can help people survive and manage crises, according to Ayo Handy-Kendi, the Breath Sékou. Breathwork can also help us to cope emotionally after chaotic catastrophes, reducing traumatic after effects.
In this session, you'll discover:
A daily practice where you relearn how to breathe to calm the autonomic nervous system supporting the relaxation state
How the destress breath helps with real-time management of chaos, castastrophies, and climate change
Why the power of breathing through traumatic moments makes the critical difference in alleviating fear and coping after crises
The opinions expressed here are those of the author/presenter and are not representative of Shift Network employees, customers, or other presenters.
Love this Speaker and What They Have to Say?
It can be yours to keep... forever.
Get lifetime access to the summit and bonus material by upgrading now!
UPGRADE HERE
Ayo Handy-Kendi, the Breath Sékou
Founder Optimum Life Breathology, Certified Breathologist, Laughter Yoga Teacher
Ayo Handy-Kendi, "The Breath Sékou", is a renowned, master teacher who has studied, practiced, and taught breath techniques since 1970. She is a certified breathologist, breath facilitator, laughter yoga teacher, Reiki master 3, Qigong practitioner levels I and II, RaSekhi, levels I and II, a diversity trainer, and a degree counselor. As an author, speaker, storyteller, rituals facilitator, and community organizer, she integrates these skills in breathology training, presentations, and "high touch" features that focus on wholistic health, social justice, healing racism, and trauma. She is fostering a "breath movement" to help us stay peaceful and stress-free while reconciling our divisions in these polarizing times. 
In 2004, she developed a life-changing system of daily transformative practices called Optimum Life Breathology™ (OLB). She has certified over 200 OLB Level 2 practitioners, and 20 Breathologist, Level 1  practitioners in  9 states, shared the system in eight countries and has "breathed" with millions worldwide on radio and TV (notably on The Steve Harvey Morning Show), as well as in print, via the internet, on stage, in groups, in private practice, and at many breathwork events, including The Shift Network Breathwork Summit. 
Also, in 2004, she created PositivEnergyWorks, a wellness business that connects culture and diversity issues with health, stress, trauma, and relaxation. She's authored five books, including Applied Breathology, her OLB workbook accompanied by a DVD, and composed and produced six CDs of meditative and drumming music. P.E.W. is a professional member of the International Breathwork Foundation (IBF).
In 1989, Ayo created a non-profit, the African American Holiday Association (AAHA), and stewarded programs as the founder of Black Love Day, Feb. 13th, which in 2023 celebrates 30 years of self-care and pro-peace for BIOPOCs.