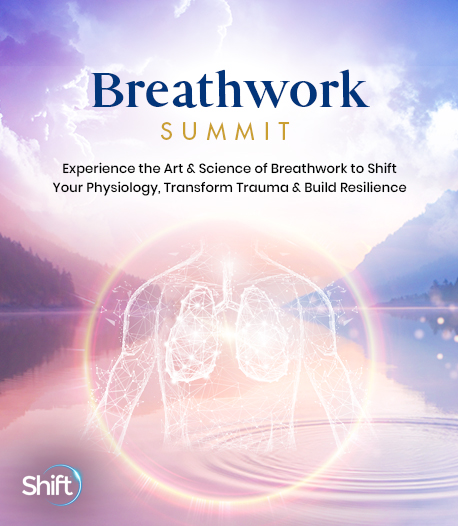 Program & Replays
What Type of Breather Are You? The Biomechanics and Psychology of Your Breath
Broadcast on February 11, 2022
With Dr. Belisa Vranich
Hosted by Lisa de Narvaez
Are you really taking a deep breath? Are you sure? Dr. Belisa Vranich discusses how diaphragmatic breathing has innumerable positive benefits for your body and mind, but most people are not breathing in an efficient, mechanically sound way. Better breathing means you have better vagal tone, choice about your arousal, and are breathing in a way that supports your digestive system and spine health.
In this session, you'll discover:
You can screen yourself to see if your location of motion and range of movement are optimal
Breathing IQ is an abdominothoracic musculoskeletal screening, measuring physical and mental health
Ways to correct your breathing to have maximal lung capacity, and a breath that controls emotions
The opinions expressed here are those of the author/presenter and are not representative of Shift Network employees, customers, or other presenters.
Love this Speaker and What They Have to Say?
It can be yours to keep... forever.
Get lifetime access to the summit and bonus material by upgrading now!
UPGRADE HERE
Dr. Belisa Vranich
Founder The Breathing Class
Dr. Belisa Vranich is a clinical psychologist and founder of The Breathing Class. She's also a former director of breathing science at the Ash Center for Comprehensive Medicine in New York City, and former director of public education at the Mental Health Association of NYC. She taught at New York University, was a consultant at the National Mental Health Association in Washington, DC, and directed an outpatient clinic at Jacobi Hospital Center in the Bronx. Dr. Vranich was also a school psychologist in the South Bronx, and part of the Brooklyn AIDS Task Force, supporting parolees and their families. Dr. Belisa received her graduate degree at NYU, completed her internship at Bellevue Hospital, and completed her undergraduate degree at UNC-Chapel Hill.
Dr. Vranich has extensive experience working with first responders including firefighters, military, and law enforcement personnel — for topics related to endurance, stress reduction, precision, pain reduction, and PTSD. A firm believer in the importance of giving back, she volunteers and supports numerous organizations related to veterans and animal rescue organizations in New York City and Los Angeles. Dr. Vranich is an outspoken advocate of organ donation and dedicated her first book to Liamslife.org.