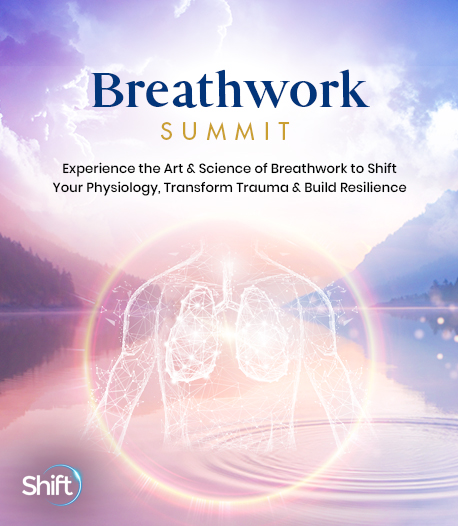 Program & Replays

Welcome Message From Your Series Hosts
With Dan Brulé & Lisa de Narvaez & Steph Magenta
Dan Brulé: Hey, Dan Brulé here. I am the President and Director of the International Center for Breathwork. I am the author of Just Breathe, and the founder of BreathMastery.com. And I would like to welcome you to the Breathwork Summit series on behalf of my co-hosts, Steph Magenta and Lisa de Narvaez.

Steph Magenta: Hi, I'm Steph Magenta, co-founder of Integrative Breath School of Breathwork Training, and I'm a breathwork teacher and facilitator.

Lisa de Narvaez: Hi. And I'm Lisa de Narvaez. I'm a breathworker, consciousness teacher, coach, and the founder of BLISSPOINT Spiritual Technologies. And we are so excited that you are all joining us on this journey. I have full trust that you are going to find these conversations as delightful and inspiring as we all did. And we look forward to sharing this work with you.
Dan Brulé: We have gathered some of the leading voices in the breathwork world, and they're standing by to help you, give you some tips and some techniques for managing these crazy times, keeping your center when everyone else is going crazy around you, and how to navigate these really difficult and challenging changes and times that we're living through.
Steph Magenta: We have a really diverse range of speakers lined up for you. We're going to hear from Richard Rudd, founder of the Gene Keys, on how important the breath is for the future of humanity. We'll be listening to Kathleen Booker, the Jedi of Calm, talk about how you can use the breath to manage grief and return to center in any given moment. And the Breath Sékou, Ayo Handy-Kendi, will speak about the difference between shallow and deep breathing and why it matters. Many of our speakers address dysregulated breathing, what it is, and how to recognize it so that we can change it, offering simple, easily accessible practices that you can implement in your day-to-day life.
Dan Brulé: So many stars in the breathing world. I hope you're going to enjoy them. I know I am. And I'll see you on the other side.
Dan Brulé
Master Breathwork Trainer and Founder of The Breathing Festival, The International Center for Breathwork & Breathmastery.com
Dan Brulé is a modern-day teacher, healer, and world-renowned pioneer in the field of breathwork. He is one of the creators of breath therapy, and was among the original group of internationally certified rebirthers. A master of Prana yoga (the Hindu science of breath) and Qigong (Chinese medical breathing exercises), he leads the worldwide spiritual breathing movement.
Dan has traveled to over 65 countries in the past 40 years, and has trained more than 250,000 people to use breath as a tool for health, growth, and change. He has trained Olympic athletes, elite warriors, martial artists, leading medical experts, corporate executives, and peak performers, including Tony Robbins. He is the author of Just Breathe: Mastering Breathwork for Success in Life, Love, Business, and Beyond.
Lisa de Narvaez
Founder of BLISSPOINT™, Consciousness Teacher, Coach and Breathworker
Lisa de Narvaez is a consciousness teacher, coach and breathworker, committed to the evolution of humanity. Over the past 20+ years, she has facilitated the awakening and transformation of the lives of thousands of humans across the world from all walks of life. Her experiential style, combining decades of global travel driven by continued studies, a love of humanity, and a deepening of her own personal embodiment of evolutionary systems, have manifested into the creation of BLISSPOINT™ Spiritual Technologies. 
Her trailblazing methodologies have made her a crowd favorite among prestigious organizations such as The Global Wellness Summit, WWD, Google, YPO, Design Hotels, Summit Series, Habitas, Soho House, Founders Pledge, GP Bullhound, Mindvalley, Well+Good and Bloomberg, amongst other emerging communities and private clients and leaders around the world. 
Steph Magenta
Co-Founder of Integrative Breath
Steph Magenta is a breathwork facilitator and teacher, licensed bodywork therapist, and shamanic practitioner. She has a background in research and development in relation to addiction and substance misuse, with over two decades of work in sexual freedom activism. Steph is an award-winning writer and blogger for sexual freedom campaigning, and a presenter and curator for two ground-breaking conferences in this field. She is the co-founder of Integrative Breath school of breathwork training, and has worked extensively with plant medicines, shamanism, and the breath to create lifelong healing for herself and her clients.